Today, in the face of large scale data breaches, data security is becoming more and more important for companies everywhere. A data breach, in addition to being an inconvenience, can carry a number of consequences that could put your company at risk, like huge fines, jail time, loss of business, and damage to your reputation. That's why it's crucial that you have security measures in place to protect your data from even the most skilled hackers.
In the face of evolving technologies and sophisticated security threats, HIPAA compliance has never been more crucial for companies handling protected health information (PHI). To gain a better understanding of the relationship between HIPAA and today's cybersecurity threats, Security Metrics recently conducted surveys of more than 300 different healthcare professionals responsible for HIPAA compliance. During these surveys, they uncovered key statistics from this past year that you might find surprising.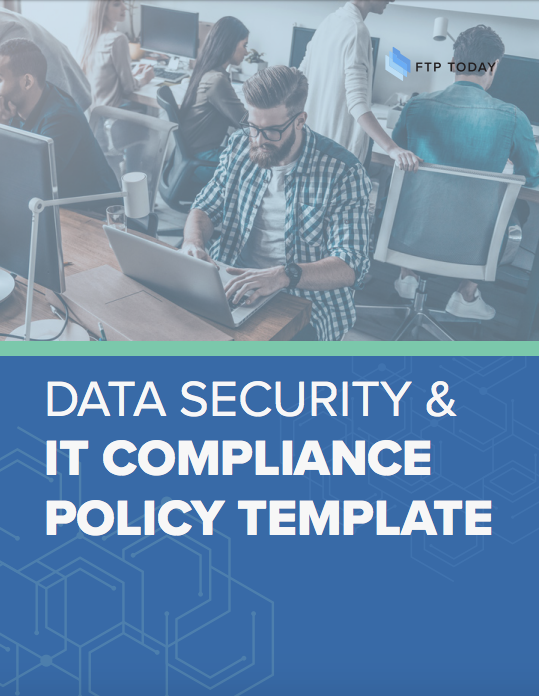 Get the Data Security & IT Compliance Policy your company needs!
Don't let your company experience the devastating impacts of data leakage, data theft and security inefficiencies.
If you're a business owner, you know that cost is a factor in every decision you make. So, before you choose a file sharing solution, you should weigh the costs associated with two different options: building an in-house FTP server and adopting a hosted FTP solution.
Verifying that someone is who they say they are is essential for keeping your company's data safe. In the past, a single, unique password might have been enough protection to keep potential digital thieves at bay, but hackers' methods have become more sophisticated with each passing today. So, what can you do to maintain the wall of security around your data?
While the cloud presents a number of opportunities for large scale data storage accessible anywhere, anytime, many potential users still harbor concerns about data security. Can the cloud really be as secure as an in-house private server? Fortunately, many top FTP cloud providers recognize the importance of data security, and have taken steps to ensure data is as safe on their cloud servers as it would be on any other solution. But, not every provider offers the same levels of data protection. And, not every company using a cloud FTP server takes the necessary steps to keep data safe. If you want to ensure you're storing data on a secure cloud server, you need to take the following actions and select a FTP cloud solution that can support your data protection efforts.
Are you tired of maintaining your in-house server? The high costs, regular maintenance, and data security require a lot of time and resources from your company. That's why many companies are looking to move from in-house servers to a managed online FTP solution. While it might seem like a daunting task to switch over, a hosted FTP solution offers too many benefits to pass up. To ensure you choose the right online FTP server, explore this checklist for features you need in your next FTP solution.