If you work in the finance industry, you know how crucial it is that you keep your clients' card payment information safe. Not only could your company face the risks of lost business and a damaged reputation, but you could also be subject to fines for failing to meet Payment Card Industry Data Security Standard (PCI DSS) compliance regulations.
Data security is crucial for many companies, especially ones in the medical, financial and government-regulated sectors. When you fail to comply with applicable regulations, you could face a number of risks including fines, loss of business, damage to your reputation, and in the most extreme cases, jail time.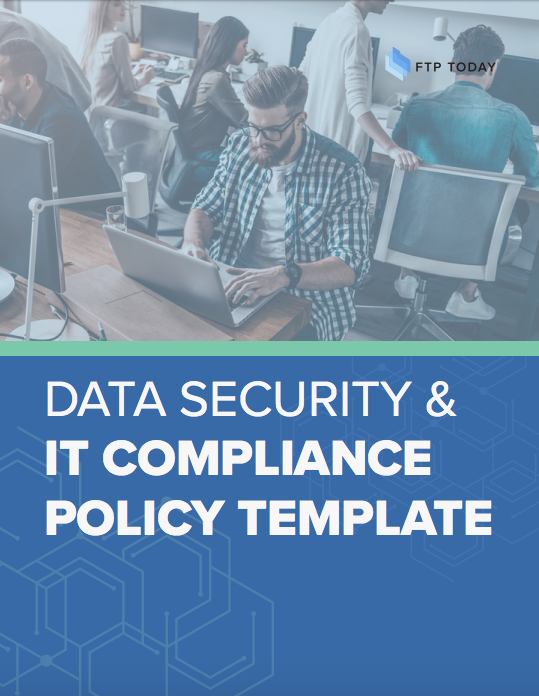 Get the Data Security & IT Compliance Policy your company needs!
Don't let your company experience the devastating impacts of data leakage, data theft and security inefficiencies.
In September, Equifax, a top consumer credit reporting company, was hacked, compromising sensitive personal information like social security numbers, birthdates, licenses numbers for 143 million Americans. If you weren't already worried about cyber security threats, this breach should definitely concern you. Keeping your data safe is crucial, both for protecting your clients and preserving your company's reputation. And, one of the biggest threats to data security is the way files are transferred. Ensuring your employees are securely and properly transferring files is not just a good idea anymore – it's a necessity. In fact, 32% of companies say that they fell victim to cybercrime last year.
For decades, companies have relied on FTP (file transfer protocol) as their basic method of transferring files. However, as data security became a larger and more urgent issue for many companies, a number of alternative FTP solutions arose to address the security vulnerabilities of basic FTP. FTP is the foundation for many of the alternative FTP solutions companies gravitate toward today, though steps have been taken to add layers of security to basic FTP. But, with so many alternatives on the market, it can be difficult to determine which options meet your file transfer needs and which options fall short.
If you need a new FTP solution, you've probably noticed that there are plenty of options on the market to choose from – perhaps too many! Because you have so many choices, it might seem like a challenge to select the best one to invest in. A common mistake companies make in the buying process is basing their decision solely on secure FTP solution price. While price is an important aspect to consider, opting for the cheapest option never leads to the best results. Instead, you need to choose a solution that provides the greatest value for its price.
In-house or an SaaS solution? This is a question many companies are face. Building your own FTP solution sounds seems like it might have some advantages, like having ultimate control over your file sharing process. But, ultimate control comes with significant responsibility. Relying on an in-house solution for your file sharing process incurs high FTP software costs. And, high costs aren't the only draw back. Hosting your own system requires you to pour vast amounts of time into implementation and management, and puts your data security at risk. Find out how choosing an SaaS solution cuts down on your FTP software costs, puts time back into your schedule, and makes it easy to keep your data secure.