For government agencies or contractors, data security is a top concern. Between highly publicized breaches to multi-million dollar fines, the consequences could cripple any organization. And, it seems like there's a new data security concern popping up each day. So, many organizations are taking a closer look at their FTP alternative options to determine which path is best for protecting their data.
Data loss is a huge threat for many companies, especially those working in the government or as government or military contractors. Often, your company and those like it are handling data with the highest levels of sensitivity, making it imperative that you protect it. But, due to hackers with nefarious motives or employees that are just plain careless, sensitive data can easily be compromised. Building a data loss prevention strategy to ensure sensitive data is not leaked outside of the company or to unintended parties is a growing objective for many companies. Without a strategy in place, your business could be susceptible to lost data.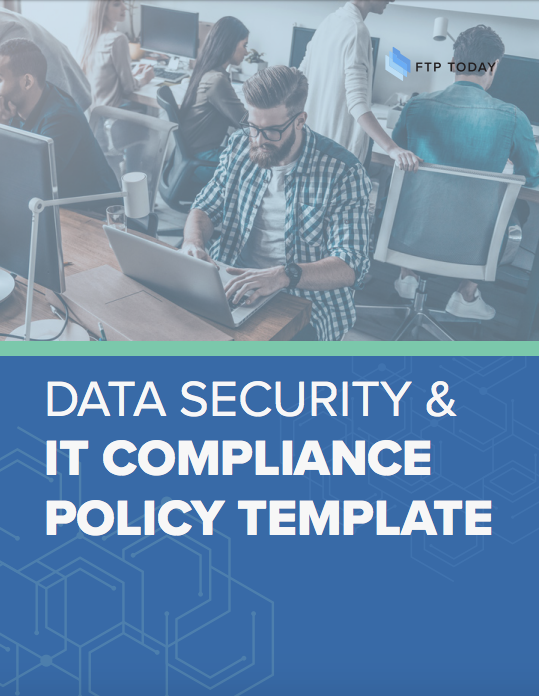 Get the Data Security & IT Compliance Policy your company needs!
Don't let your company experience the devastating impacts of data leakage, data theft and security inefficiencies.
Keeping data and information secure as a military contractor is vital. Not only is it key for maintaining your reputation as a trustworthy military contractor, it's also mandated by ITAR (International Traffic in Arms Regulations). These U.S. government regulations control the import and export of defense related data pertaining to items on the USML (United States Munitions List). The chief aim of ITAR is to ensure that sensitive data is shared only with authorized U.S. citizens and doesn't fall into the hands of foreign countries or persons.
Being HIPAA compliant when sharing files is mandatory for those in the medical industry. But sometimes it's hard to know if you're in compliance or missing the mark. To truly keep your ePHI (electronic Protected Health Information) safe, you need an intuitive file sharing solution with all the built-in safeguards necessary to maintain an impenetrable environment. Before you can start examining which HIPAA compliant file sharing solution is ideal for your business to adopt, you need to understand a little bit more about safeguards. These are the protections your business needs to have in place to maintain HIPAA compliance, and there are two types:
For many companies, ensuring data is securely shared both internally and externally has become a growing priority. With the threat of hackers looming, protecting sensitive data is no longer a want – it's a necessity. And, encryption is a security measure companies have adopted to make sure their data is safe when transferred from one user to another. While many companies have concerns about securely transferring data, they're forgetting about the vulnerabilities of data at rest. Even when valuable data isn't being transferred, it's still important to shield it from threats. At-rest encryption is the only way to ensure your stored data is protected, even when you're not using it. If you want to protect your at-rest data from the threat of unauthorized access, learn more about at-rest encryption and the number of benefits that come with it.
If you're shopping for a file transfer solution, you've probably heard a lot about "FTP cloud storage." Maybe you know a little bit about the cloud or a little bit about FTP, but you may not know exactly how these two concepts connect and work together.