UPDATE August 31, 2017 - All servers and all customers have been updated to our latest version that includes integrated and enhanced administration.
Announcements | Articles | Latest Features
FTP Today recently launched a major update where you can now configure all of your setting defaults in one location. I walked customers through this in our recent workshop, Admin Day 1: Setting Up Your System Defaults.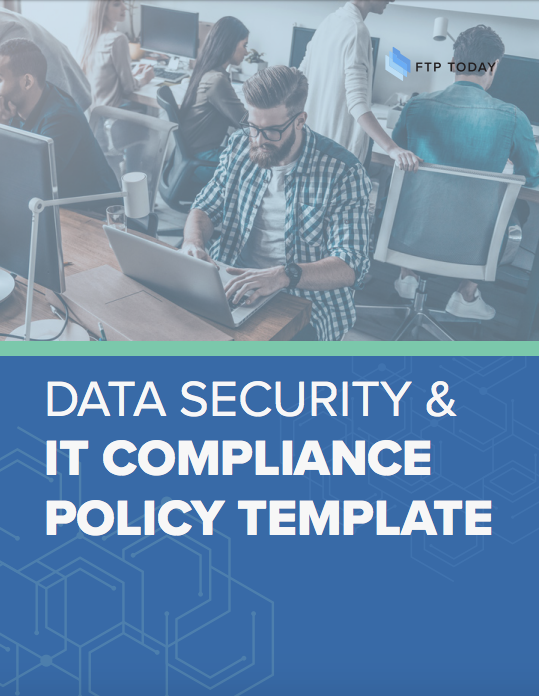 Get the Data Security & IT Compliance Policy your company needs!
Don't let your company experience the devastating impacts of data leakage, data theft and security inefficiencies.
Announcements | Articles | Latest Features
In our recent workshop, Custom Branding Colors, I walked customers through how to customize the branding of their FTP Today Web App. Here at FTP Today, we understand how important it is to brand the software you use for your company. Color "schemes" and "themes" were inflexible and are a thing of the past, Customizing your file sharing web app is now significantly improved. Attendees of the workshop learned the four steps to customize the branding of their web app.
In a recently conducted online webinar titled "File Sharing: Introducing... InfiniShare", founding and acting head of FTP Today Martin Horan discussed one of the newest features that the company was rolling out to customers all over the world, InfiniShare. The feature brings with it a wide range of different benefits designed to support existing workflows and extend the functionality of FTP Today deeper into the world of business than ever before.
As of January 12, 2016, MIcrosoft formally dropped support for all versions of Internet Explorer prior to version 11. There are a few temporary exceptions, such as IE9 on Vista. A complete list of browsers still receiving security updates from microsoft can be found here: https://support.microsoft.com/en-us/lifecycle#gp/Microsoft-Internet-Explorer.
In a recent online workshop titled "WebApp 2.0 Launch Preview" that was conducted in 2016, Martin Horan (founder and acting head of FTP Today) discussed the impending launch of the company's WebApp update. The new version of a company's FTP site features a number of enhancements and new options that will help make FTP Today a much more valuable part of their organization.