If you're shopping for a file transfer solution, you've probably heard a lot about "FTP cloud storage." Maybe you know a little bit about the cloud or a little bit about FTP, but you may not know exactly how these two concepts connect and work together.
When searching for a file sharing solution, many people look at features like price, storage space, or the number of users accommodated. While all of these are important items to consider, you don't want to look past what may be the most important feature of file sharing solutions – folder access permissions. When comparing different file sharing alternatives, you need to consider what level of folder access permission control you will have. Explore this article to learn more about why folder access permissions are important, and find out which top file sharing alternatives offer these permissions and which ones fall short.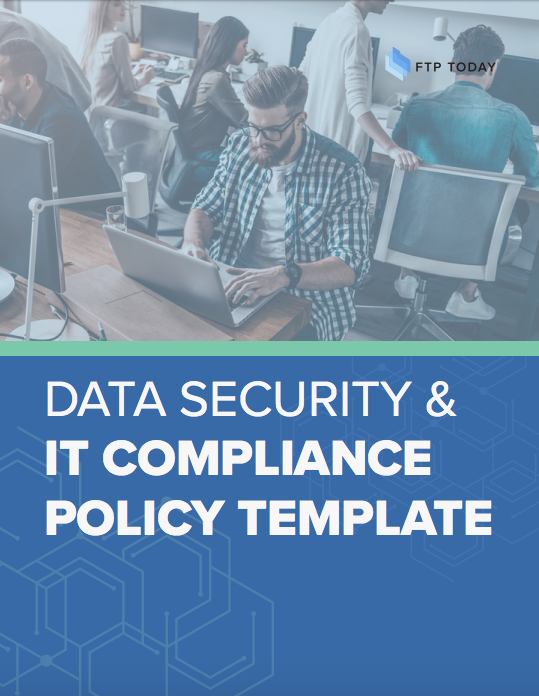 Get the Data Security & IT Compliance Policy your company needs!
Don't let your company experience the devastating impacts of data leakage, data theft and security inefficiencies.
If you are looking for a new file transfer solution, there's a chance you have a long list of features your next solution should provide for your company. Maybe you need a solution that offers the highest level of security. Or perhaps your solution should accommodate an unlimited number of users. But, there are two features that are essential to efficient operations that many FTP solution buyers overlook: amount of file transfers and file transfer bandwidth speed.
If you're a business owner, you know that growing and improving your business is an all-encompassing job. Growth is a top objective for most companies, but with limited resources, it's hard to grow your company successfully. To grow, you need to examine every aspect of your operations. It's easy to overlook tools like online FTP solutions. But, the right solution can enable growth and promote greater efficiency and profitability in your business. Explore five ways the right online FTP solution can support your business' growth initiatives.
If you're searching for your next file transfer solution, you've likely noticed that there are a wide variety of options on the market. While it's helpful to have choices, it can be a challenge to identify the differences between file transfer solutions that seem similar on the surface.
The Payment Card Industry Data Security Standard (PCI-DSS) is designed to help organizations keep cardholder payment information secure. This payment data can be generated from major debit, credit, prepaid, e-purse, ATM, and POS cards. To maintain a thorough level of security protecting cardholder data, the latest PCI-DSS version specifies a number of "control objectives" to help organizations strengthen their networks and servers against the constant threat of a data breach and meet PCI-DSS file sharing requirements. Explore four key objectives your organization should work toward to maintain compliance, and learn what actions you can take to ensure you meet these PCI-DSS file sharing requirements.