Enterprises have very different requirements for file sharing solutions than small businesses do. You'll have hundreds, maybe even thousands of users logged into your solution each day. It's vital you choose a solution that promotes file sharing best practices for your users and can withstand the massive data storage demands many enterprises face. If you're looking for a file sharing solution for your company, where do you start? There are so many options on the market, but only a few are designed to support the needs of a large enterprise. Explore these four questions you should ask in your search for an enterprise file sharing solution to ensure you're making the right choice.
Are you looking for a new SFTP solution for your business? When you simply Google "SFTP server" more than a million links come up. It's easy to get lost in all of the available options when you're researching an SFTP solution. Before you start looking, you need to set a few guidelines that will help you narrow down your choices, and ultimately choose the best option for your business. Explore these four must-have features you should look for when considering an SFTP server.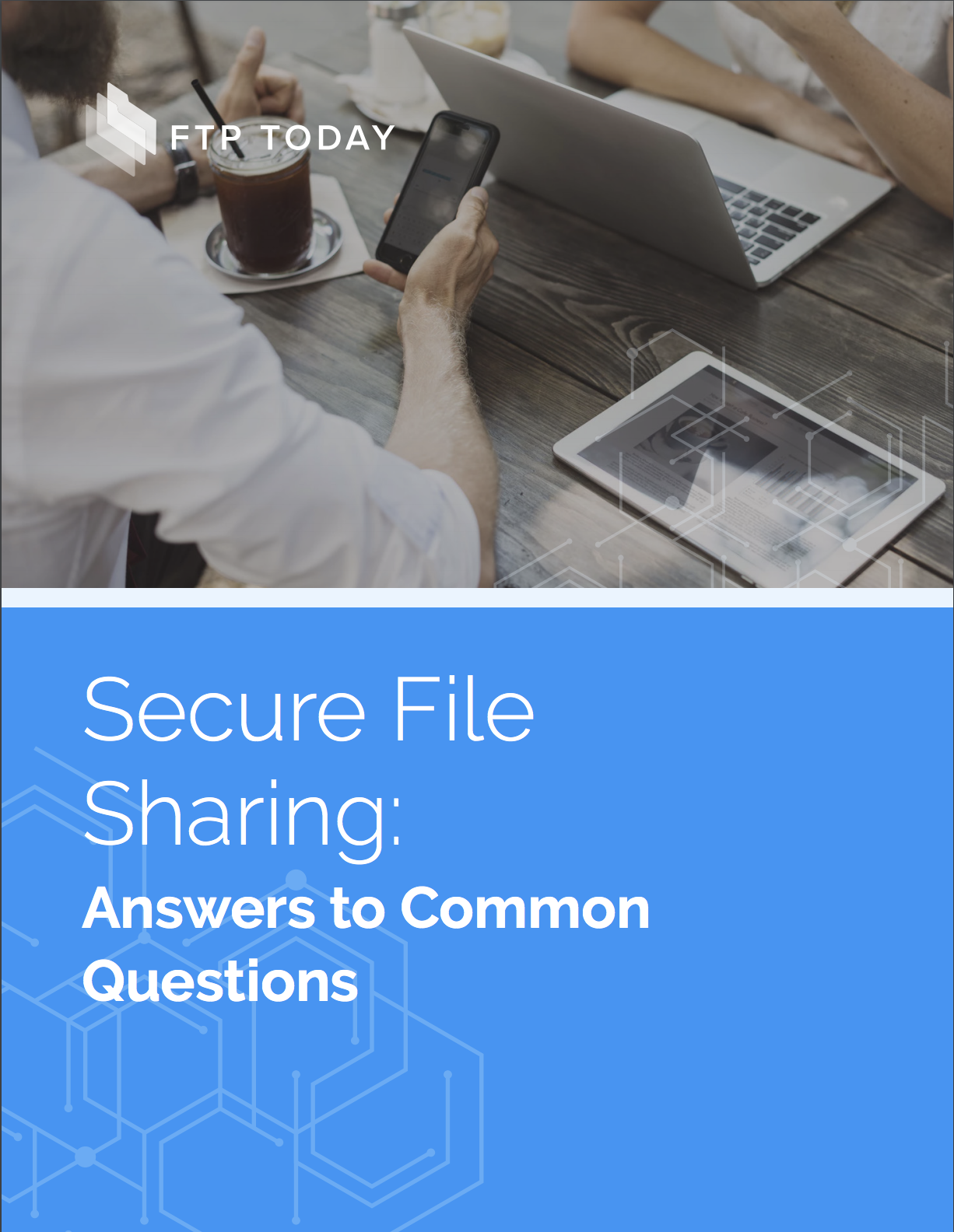 Get the answers to your secure file sharing questions!
Are you trying to select a new file sharing solution, but you have a few questions first? Explore these common questions about file sharing solutions and find out their answers.
When the term "cloud computing" was coined back in 2006 everyone was intrigued by how it worked. Fast forward more than a decade and not much has changed. Just because you might not fully understand how the cloud works, doesn't mean you should ignore it. This is not an "ignorance is bliss" situation. You need to take control of your cloud file sharing process. Explore three ways you can stay in control of your cloud file sharing security, and find out four mistakes that cause companies to lose control.
Over the last few decades, the internet has changed how people work. In the past, employees sat in their cubicles or offices working independently. But, with the internet and cloud solutions of today, businesses can facilitate increased productivity and collaboration. Your file sharing options have kept up with these advances, as well. That's why online file sharing solutions are gaining traction in industries like healthcare, government, finance, law, engineering, and more. Now, you can choose an online sharing solution that enhances the way your employees work, regardless of what industry you're in.
Are you working hard to keep your file sharing processes HIPAA compliant? For many companies, they think their file sharing is secure, but they're not positive they're aligning with all the applicable HIPAA requirements. And, unfortunately, in many cases, you don't there's a problem with your file sharing security until a data breach occurs.
Today, in the face of large scale data breaches, data security is becoming more and more important for companies everywhere. A data breach, in addition to being an inconvenience, can carry a number of consequences that could put your company at risk, like huge fines, jail time, loss of business, and damage to your reputation. That's why it's crucial that you have security measures in place to protect your data from even the most skilled hackers.