Verifying that someone is who they say they are is essential for keeping your company's data safe. In the past, a single, unique password might have been enough protection to keep potential digital thieves at bay, but hackers' methods have become more sophisticated with each passing today. So, what can you do to maintain the wall of security around your data?
While the cloud presents a number of opportunities for large scale data storage accessible anywhere, anytime, many potential users still harbor concerns about data security. Can the cloud really be as secure as an in-house private server? Fortunately, many top FTP cloud providers recognize the importance of data security, and have taken steps to ensure data is as safe on their cloud servers as it would be on any other solution. But, not every provider offers the same levels of data protection. And, not every company using a cloud FTP server takes the necessary steps to keep data safe. If you want to ensure you're storing data on a secure cloud server, you need to take the following actions and select a FTP cloud solution that can support your data protection efforts.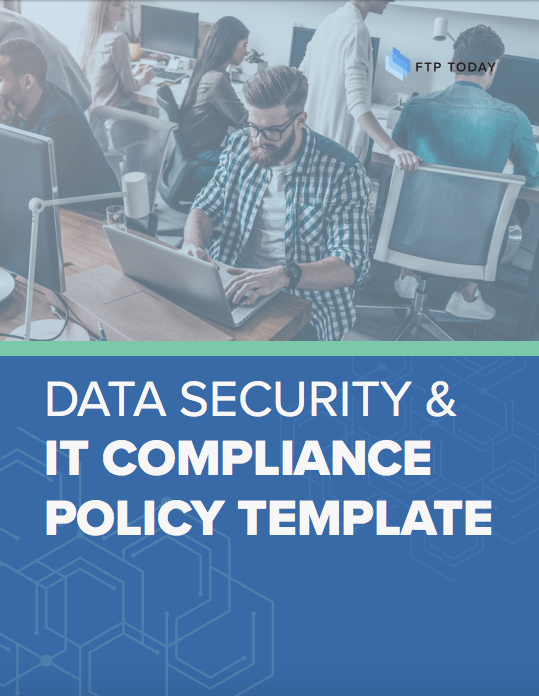 Get the Data Security & IT Compliance Policy your company needs!
Don't let your company experience the devastating impacts of data leakage, data theft and security inefficiencies.
Are you tired of maintaining your in-house server? The high costs, regular maintenance, and data security require a lot of time and resources from your company. That's why many companies are looking to move from in-house servers to a managed online FTP solution. While it might seem like a daunting task to switch over, a hosted FTP solution offers too many benefits to pass up. To ensure you choose the right online FTP server, explore this checklist for features you need in your next FTP solution.
For government agencies or contractors, data security is a top concern. Between highly publicized breaches to multi-million dollar fines, the consequences could cripple any organization. And, it seems like there's a new data security concern popping up each day. So, many organizations are taking a closer look at their FTP alternative options to determine which path is best for protecting their data.
Data loss is a huge threat for many companies, especially those working in the government or as government or military contractors. Often, your company and those like it are handling data with the highest levels of sensitivity, making it imperative that you protect it. But, due to hackers with nefarious motives or employees that are just plain careless, sensitive data can easily be compromised. Building a data loss prevention strategy to ensure sensitive data is not leaked outside of the company or to unintended parties is a growing objective for many companies. Without a strategy in place, your business could be susceptible to lost data.
Keeping data and information secure as a military contractor is vital. Not only is it key for maintaining your reputation as a trustworthy military contractor, it's also mandated by ITAR (International Traffic in Arms Regulations). These U.S. government regulations control the import and export of defense related data pertaining to items on the USML (United States Munitions List). The chief aim of ITAR is to ensure that sensitive data is shared only with authorized U.S. citizens and doesn't fall into the hands of foreign countries or persons.